Pro-Hezbollah protestors recently took full advantage of their Western, Judeo-Christian democratic freedoms to denounce Israel (and by implication the United States) at the Israeli consulate in New York City.
Fair enough, your country plays footsie with terrorists who want to wipe Israel and the USA off the face of the earth. Israel has responded (finally) to the hundreds of missals launched from your country. You're mad at the "disproportionate" repsonse.
(more on this proportionalism issue later)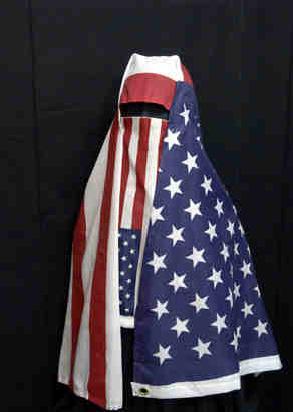 There's only one problem, where's the internal integrity? the logical conclusion to your ideas? I mean, will you be able to dress like that in Tel Aviv or New York after Hezbollah takes over? Women protesting this issue in Beirut weren't dressed like this!
No problem, I have found suitable dress for you. It is true that as a Westernized, Christian male, I have an eye for the beauty of female form but while you stand on American soil supporting people who vow to destroy it, please wear this burqua in order to satisfy the law of non-contradiction (
or is that law just another vestige of western, judeo-christian oppression?
). It is a bit short but the color scheme has a certain
je ne sais quoi
that really turns me on.